Opening Hours
Thursday–Saturday: 4pm–8pm
Sunday, Monday, Tuesday, Wednesday closed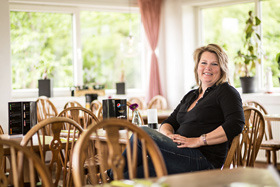 Hi!
Welcome to our traditional harbourside inn on the wonderful North Sea island of Rømø!
We'll spoil you with tasty à la carte dishes, and our huge buffet is an absolute must!
You can also stay here; our rooms have gorgeous sea views.
And my Rømøpigen products are the perfect souvenir of your holiday.
See you soon, Helle Thomsen